Update
: Silly me. My days are all mixed up. Uncle Bill's birthday isn't until tomorrow, April 7. And it's only April 6. (This is what happens when you're counting the days until your last day of work!)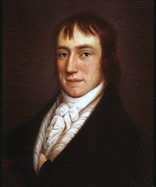 OK, so Amy and I referred to the English Romantic poet, William Wordsworth, as "Uncle Bill" when we were in
college
. Emerson was "Uncle Ralph," and Thoreau was "Uncle Hank." And Whitman was "Uncle Walt."
We were weird English-major types, yes. And we also felt very close to these poets and writers, and loved them as if they were our own flesh and blood.
So anyway, today is William Wordsworth's birthday. He was born in Cockermouth, Columbia, England, on April 7, 1770 (which makes him just eight months older than Beethoven).
As a young man, Wordsworth set off on his first walking tour across Europe (my kinda guy: a hiker!). While on his walk, and later while living in France, he came into contact with the French Revolution and its ideals, which were to have a profound influence on his poetry. He became sympathetic to the life, speech, and issues of the "common man," the flesh-and-blood everyday people that populated France and had revolted against the aristocracy.
In 1795, he met fellow poet Samuel Taylor Coleridge, with whom he would write the
Lyrical Ballads
(published in 1798). These poems revolve around the happenings of everyday people--the common man--and is communicated in what Wordsworth termed "common speech." Although Wordsworth himself wrote the bulk of the poems contained in the
Lyrical Ballads
, Coleridge's "The Rime of the Ancient Marinere" is among the most well-known.
It's going to be a busy day at work, but I'll try to post a few Wordsworth poems from the
Lyrical Ballads
during my coffee breaks today.
A poetry- and nature-loving hiker, Wordsworth was without question my favorite poet when I was in my teens and 20s. I still like him, though I must admit that he doesn't resonate with me the way he did before. Still, one of my all-time my favorite poems in the English language is one of his, and it is one that practically every high-school student eventually reads: "
Lines Written A Few Miles Above Tintern Abbey, on Revisiting the Banks of the Wye during a Tour
" (better known as "Tintern Abbey," or just "Lines"). It's a rather long poem to post in full on a blog, so I'm just posting my favorite snippet of it here:
... That time is past,
And all its aching joys are now no more,
And all its dizzy raptures. Not for this
Faint I, nor mourn nor murmur, other gifts
Have followed; for such loss, I would believe,
Abundant recompence. For I have learned
To look on nature, not as in the hour
Of thoughtless youth; but hearing oftentimes
The still, sad music of humanity,
Nor harsh nor grating, though of ample power
To chasten and subdue. And I have felt
A presence that disturbs me with the joy
Of elevated thoughts; a sense sublime
Of something far more deeply interfused,
Whose dwelling is the light of setting suns,
And the round ocean and the living air,
And the blue sky, and in the mind of man;
A motion and a spirit, that impels
All thinking things, all objects of all thought,
And rolls through all things.
(
Update:
I had originally posted the entire 159-line poem, but it took up a lot of room, so I'm just
linking
it now. It is worth the read. Next time you have a good 10 or 15 minutes to sink into poetry, please go visit it.)
Read more of the
Lyrical Ballads
here
. Or wait for me to post some more later today.