Five Years Have Passed ...
(Written June 24, 2000)
What a hike this has been so far! I woke up early the morning of June 20 at Katahdin Stream Campground, and was soon approached by a man who asked me if I was a thru-hiker (it must have been the one-woman tent that gave me away).
"I will be, just as soon as I climb that mountain!" I replied. He then introduced himself as George, and invited me over to his campsite to meet his son, Greg, who was also a thru-hiker. I also met their friend, Lucy.
To make a long story short, I commenced my long-awaited thru-hike with them. We had a Class 1 day for climbing Mount Katahdin, the northern terminus of the Appalachian Trail and the starting point for AT (Appalachian Trail) southbounders. The name"Katahdin" is Abenaki Indian for "greatest mountain." It is aptly named. Climbing that mountain was the hardest "hiking" I think I've ever done. It was much harder than Louisiana's "greatest mountain," the 535-foot Driskill!
Katahdin was such a challenge for me, both physically and mentally. Up, up, up it went, and it wasn't your typical uphill walk in the woods. There was no real trail for much of it, just boulders with white blazes painted on them, and a few cairns (small piles of rocks) to mark the path. Much of the trail was a real rock scramble, which was actually fun at times. It would have been much easier, though, if I had been taller. Sometimes I'd step out toward a rock, and my leg would just dangle —not long enough! Greg had to help me up and down the rocks a few times.
I used every part of my body —my legs, my arms, my shoulders, my butt —to creep and crawl my way up that mountain. I spent much of the day gorilla-style, walking on my hands and feet.
The last stretch seemed to take forever, because we could see the Katahdin sign at the summit. I wanted to hurry, but my heart was pounding and I kept having to stop and rest. I kept wanting to yell ahead to Greg,"Are we THERE yet?!"
What a feeling when I got to that sign! The"approach trail" had kicked my flatlander butt, but I was still walking, and I reached the sign. Now, I thought, I am a thru-hiker. No longer a dreamer. I've been a dreamer for 10 years. Now I'm the real thing. Lucy took my picture, and I know I had a huge smile on my face. It was a beautiful day —there were a few clouds, but the sky was so blue, and you could see for miles.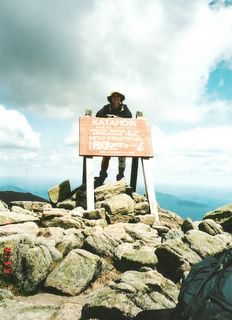 First Day on the Trail, June 20, 2000

The trip down Katahdin was even more arduous than the trip up. I had to concentrate on every step so that I wouldn't slip. At one point, while I was precariously balanced on a rock, a sudden gust of wind nearly knocked me over. Good thing my mom wasn't there to see that!
Six other southbounders started that day. Greg is making big miles through Maine, but the other six of us —Hypothetical, Looking Glass, Apollo, Man in the Moon, Cool Hand Luke, and me —have more or less stuck together these first few days.
There are many southbound thru-hikers in the 100-mile wilderness right now. I didn't expect to see so many, but it's nice to have some company (other than the bugs!) in the shelters at night. Most of the thru-hikers have partners. I'm enjoying being a "solo hiker." So far, I haven't met any other women who are solo hiking the trail.
Most of the southbounders out here are young, between the ages of 18 and 22. I feel like the old woman in the group at 30! There are some older section hikers out here, too, but for the most part everyone is younger. Practically all of the thru-hikers are relatively experienced backpackers, too.
Tonight I'm at the White House Landing Wilderness Camp, located on Pemadumcook Lake. The owners, Bill and Linda Ware, have been great, and the food is delicious. Too bad I haven't developed the famous "hiker appetite" yet!
Tomorrow I'll hit the trail bright and early, and I hope to make it to Monson by July 1.
For more on my Appalachian Trail thru-hike (Maine to Georgia) of 2000, visit my
Trailjournals pages
.