Practicing Pact Totals
Congratulations to Pei Yun, the top practicer for April 2005! She logged 1,105 minutes of practice--waaay more than the rest of us--on the double bass.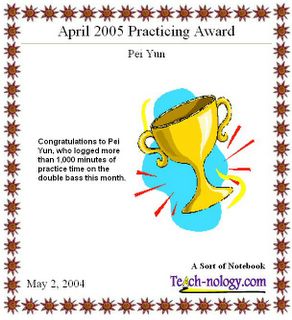 Pei Yun recently wrote about
her experience playing at a masterclass
given by Rinat Ibragimov, Principal Double Bassist of the London Symphony Orchestra. It's an enjoyable read. She finishes the post: "Meantime, I am wondering how on earth I had mustered such courage to play in front of so many folks this afternoon. Come to think of it, it didn't kill to play in front of so many people. At least, I managed to survive afterall."
**************************
Monthly practice totals for the rest of us are as follows:
Hilda: 690 minutes

Waterfall: 675 minutes

Little Princess: 570 minutes

Sparrow: 550 minutes
Kim in ON: 540 minutes
Dulciana: 492 minutes

Fran (new to the pact): 90 minutes
Congrats to all of us!
Most of us met the challenge for 150 minutes in Week 4, and I vote for having that same challenge for this week, too. Here are last week's totals (my math is not perfect, so please forgive any errors in addition!):
| | |
| --- | --- |
| | First place for this past week was Hilda, who logged 235 minutes on her beloved oboe. |
| | In second place was Pei Yun on the double bass, with 230 minutes. |
| | Tied for third, with 165 minutes each on the piano, are sparrow and Kim. Sparrow is working on pieces by Chopin and Kuhlau, and Kim just started learning Mendelssohn's "Venetian Boat Song." |
Great job, everyone! I'll provide a "Week 5 Minutes" post before long.
P.S. For you piano students and teachers: Brad is interested in learning to play piano again after not having studied it since childhood, and he's looking for suggestions and advice. See his comment to
this post
.