Getting Your Airness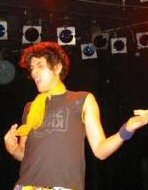 Tonight is the Southeast Regional Air Guitar Competition at Westville Pub in Asheville. When I first heard about it a few weeks ago, I thought it was a joke. But this is
real
, man. The winner gets to go to the national championship in L.A., and then possibly on to the international championship in Finland. And if he or she wins that ... they get a REAL guitar. Whether or not they'll actually play it will remain to be seen. :-)
How does it work? The air roadies load the air-guitarist's equipment on the stage. Then the air guitarist straps on an invisible guitar and plays (or wails) for 60 seconds of whatever song they choose. The finalists have to play a "surprise" solo. All proceeds go to the
American Parkinson's Disease Foundation
.
There is a great article on air guitar in this weeks edition of Asheville's
Mountain Xpress
. A couple of air guitarists, in explaining the appeal of air-guitaring, say the following:
"It's the sense in which you're no longer air-guitaring," [last year's world champ] Miri Park told Conan O'Brien, explaining this crucial quality on which contestants are judged. "You've transcended all that and it's an art form all on its own ... it's a very Zen-like place."

[Air-guitarist and Asheville competition organizer Walter] Aderhold embellishes, "If people actually think you're holding a guitar, then you have it. That's getting your airness."

(quoted from Mountain Xpress)
This could actually be fun to watch. My very own Hubster is quite the accomplished air-guitarist (though, hiker that he is, he plays best when he can use his Leki hiking poles as an air-guitar substitute). I've always found it strange, though, that, as much as he loves to play air guitar, he has never been interested in actually
learning
to play a
real
guitar. What's with that, dear Hubster?
Anyway, here's
comprehensive and very funny piece
(with a helpful diagram!) on the ever-elusive air guitar. And you can find last year's winner's performance on Conan O'Brien
here
.
I'm not much of an air guitarist myself, though I do play tennis racket and can play a pretty mean air-drum. I've played air-keyboard, too. I'm just wondering when the Air Cliburn piano competition is going to be ... I think I'll play the Goldberg Variations, or maybe Beethoven's Hammerklavier sonata. If I ever play either of those, it will definitely be the air-piano variety!
Anyone up for an air-orchestra? Air opera? Air ... oh, I guess I'd better get back to work now.