Getting Ready to Hike
Note to Readers
: Please let me know if you are unable to see the photos in this post.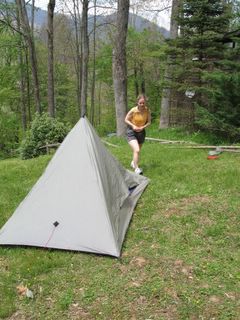 Making sure I know how to set up Hubster's tent
(Usually, when we hike together, I'm in charge of fetching water while he sets up the tent, so I've rarely set it up on my own. I sold my two one-woman tents last year, so I have to use Hubster's.) (Yes, that is the view from our yard. Nice, huh?)
Practicing sitting in the tent.
:-D
(As you can see, I'm also practicing my signature hiker hair-do.)
Wearing my house on my back
Now, is this a happy camper, or what? I don't believe I've smiled this big in a year.