OK, I'm calling it the "Trail Days Hike," or "TD Hike," because it's going to commence as soon as
Trail Days
is over. Originally, I'd planned to hike
to
Trail Days, but the work schedule is making a post-TD hike look like a better idea. And I'm going to do a periodic feature on this blog, starting today, on reasons to take this TD Hike, which will be approximately 188 miles and will take me about two weeks, give or take a few days. So, onward to Reason #1 ...
Reason #1 is ...

So I can hike Hump Mountain!
Here's what Hump Mountain looks like in the spring: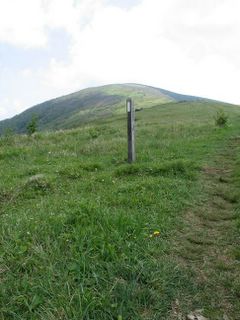 Pretty, huh? It didn't look like that when I was there in November of 2000.
In 2000, I hiked every inch of the Appalachian Trail, from Maine to George, EXCEPT for this stupid bald. Why? Here's why:
(1)
It was well below freezing;
(2)
The wind was blowing at 40+ mph, forcing me to walk at a crazy angle;
(3)
The entire mountain was enveloped in ice;
(4)
Visibility was about ten feet, give or take a few feet;
(5)
I was alone; and
(6)
I didn't want to die alone on a frozen, exposed mountain.
Oh, I'm too lazy to tell the story, so I'll just give you what's in my AT journal at
Trailjournals.com
.
Late November, 2000

Ahhh. . .right now I'm sitting in a comfy chair next to a heater, listening to classical music and writing in my journal. I'm at the Sunnybank Inn in Hot Springs, North Carolina, known to hikers as merely"Elmer's." Elmer Hall has welcomed thru-hikers to enjoy the luxurious accommodations of this beautiful Victorian house (gourmet food, flannel sheets, three friendly cats, a music room with a PIANO) since 1977.

And I deserve this bit of relaxation. Ever since the cold snap hit in mid-November, the trail has taken on a whole new character. I'm still being met by nature's incredible beauty every day, but I'm seeing--and feeling--the harsh, unforgiving aspects of nature, as well.

About a week ago, I got a taste of how brutal nature can be. Bob Peoples dropped me off at the trail that morning. I said good-bye to Bob, since I wouldn't be going back to Kincora that evening. Instead, with a full pack on my back, I headed to Overmountain Shelter, eight miles away. Matt [another hiker] had to go the post office first, and would be an hour or more behind me that day.

I had a long climb--four or five miles of steady uphill--ahead of me. I would take a break at Doll Flats, then continue upward to Hump Mountain and through Bradley Gap, which Bob had warned me was one of the windiest places on the AT. After Bradley Gap, I would traverse another bald, then make my way downhill to Overmountain Shelter. Eight miles. Easy.

Not easy. It wasn't long before I hit snow and ice, and my hiking speed was cut in half. The rocks and roots comprising the trail were covered with a slick film of ice, and the snow itself was several inches deep in places. I dug my hiking poles into the ground with each step; the few times I slipped, they held fast and kept me from falling.

Doll Flats, a small campsite halfway up the mountain, was so windy and cold that I stopped to pull on my mid-weight thermal underwear, windpants, and balaclava. But this icy wind was just a mere hint of what was to come.

The trail led upward through the woods, so the trees kept me protected from the wind as I hiked. But the trees eventually ended, and I stopped for a Snickers in preparation to cross the bald of Hump Mountain.

The southern balds are known for their lovely views, but they can be dangerous places in harsh weather. That day, the bald looked like a frozen wasteland, assaulted by bitterly cold winds blowing at 45-50 miles per hour. The thermometer on my pack read 28 degrees—and that was WITHOUT the wind chill factor!

I staggered over icy trail and through bitter wind to a gate that opened onto the bald. Icicles hung from the gate as if in warning. I went through carefully on a trail that was nothing but slippery ice.

The wind on the bald was unbelievable. I walked at what felt like at 45-degree angle, leaning to the left. Walking on the slick, ice-covered AT was not an option, so I crunched through the frozen grass alongside the trail. Each blade was enveloped in a thick coat of ice, and the tufts of frozen grass looked like great tentacles reaching upward. I wanted to take a picture, but it was too cold to stop.

Even in the grass, my footing was unsure. The wind was so fierce, I felt like a tumbleweed. It pushed me four, five, six feet off my course. I felt nauseated with cold.

About a quarter-mile across the bald, I had a revelation: "This is SO stupid! I shouldn't be out here alone!"

I turned back. Once I reached the cover of trees, I decided to wait for Matt and walk across the bald with him. I munched on Nip-Chee crackers (one of the many delicacies we enjoy out here!) while I waited. But I started getting cold. I knew I needed to start moving again.

As I set out to cross the bald a second time, I thought to myself:"I'm a thru-hiker. I hiked here [Tennessee] all the way from Maine. I can DO this!"

I assumed my course over the frozen, tentacle-like grass, plowing my poles into the ground to keep from being blown away by the wind. But my intuition, the little voice that had turned me back before, fought against my determination. "You're being stupid!" it said. "Now get your butt back under those trees!"

Still, I kept walking. I was shivering and felt nauseated. I knew I'd be fine once I reached "treeline," but I didn't know where "treeline" was. Visibility was about 10 feet; "treeline" could be 100 yards away, or it could be more than a mile. I kept walking, fighting the wind that tried to knock me over. I had now gone a half-mile or more. My intuition was screaming for me to go back. I stopped, considered it, and kept walking.

"I'm a thru-hiker. A SOUTHBOUNDER. I can DO this."

"Go back, you idiot!"

I kept walking. Then the wind knocked me over. As I was getting back up, it knocked me down again. I managed to stand back up without slipping on the ice. When I started walking again, it was back toward the trees where I had started. I knew that, if I were to fall and hurt my ankle--or worse--I might find myself stuck there in below-freezing weather, exposed to high-level icy winds.

"I'm a thru-hiker. But Springer isn't worth risking my life."

I hurried back. When I reached the trees, I found Matt preparing to cross the bald.

"It's dangerous out there," I said. "I'm thinking about going back to the road."

Matt said he would see how bad it was; if he couldn't take it, he would turn back, too. I decided to hike with him. Safety in numbers. Plus, if he could do it, so could I.

We got to the gate with the icicles, and I suddenly felt the exhaustion resulting from my two forays out onto the bald. Matt went through the gate. I didn't.

"I'm sorry," I yelled over the wind. "I can't do it. I'm going back to the road."

Matt looked uncertain. I could tell that he wanted to keep going. I told him to keep going and not to worry about me, and we agreed that I would wait for him at the shelter near the road. If he didn't show up in a half-hour, that would mean that he kept going to Overmountain Shelter.

I headed back down the mountain alone--back through the snow, back through the ice-covered rocks. All the way back to the bottom. Hump Mountain and Bradley Gap would have to wait.

I didn't regret my decision to turn back, but that didn't stop me from feeling like a complete loser and a coward--things we all sometimes secretly fear that we are, I guess. I cried the whole way down the mountain. I HATED turning back. I felt defeated. I don't like feeling defeated. And I didn't like the idea of having to re-climb the mountain the next day.

I waited for Matt at the shelter, but he never showed up. So I walked out to the road. There, I met a guy named Tim who was waiting for a friend of his who had stayed at Overmountain Shelter the night before. She wasn't due to emerge from the woods for another hour, so he kindly drove me to a phone. I called Bob from Kincora and arranged for him to pick me up at the trailhead.

Meanwhile, Tim gave me a cheeseburger and a Diet Mountain Dew. I love trail magic!!

I was sad, though. I hate feeling defeated. I'd like to think of myself as someone who overcomes adversity without batting an eyelash. I hate being scared of things.

Still, I think I did the smart thing in turning back. The weather improved the next day, and I was able to hike on. I later learned that several guys had taken a zero day at Overmountain Shelter. They had planned to hike down the mountain to the road the same day I turned back, but had decided the weather was too risky. That made me feel better, to know that GUYS had found it too dangerous as well!

The woman that Tim was waiting for at the road had not crossed the bald either. She had taken an alternate route down the mountain in search of a house so she could get to a phone.

Now, after several days of cold-weather hiking and a short break in Erwin, Tennessee, I'm living in luxury at the Sunnybank Inn in Hot Springs. I know how tough the trail can be, and I know it's not going to get any easier--especially with the Smokies on the horizon. I've hiked nearly 1,900 miles, yet I still don't feel like Springer is within reach. Still, I know that if I just keep walking and manage to make good decisions regarding the weather, I'll get there. One step at a time.
Although the weather had improved the next day, it still wasn't good. I had to make a tough choice. The weather was still dangerous, and I needed to make it to Springer Mountain (the southern terminus of the trail) before Christmas. I had Bob take me to a trailhead that allowed me to hike to Overmountain Shelter, thus skipping the stretch of the AT that ran over Hump Mountain. I considered it a "bad-weather route."
But I'm going to hike it this time around. With my luck, I'll have a killer thunderstorm (they don't call me "Waterfall" for nothing; I make water fall from the sky!). Hump Mountain and Bradley Gap have had to wait nearly five years. Wait no more! I'm going to hike them both this May, as part of my TD Hike. Finally.
Acknowledgement:
The beautiful picture of Hump Mountain above is from
Trail Dawg's website
. Lots of great pictures there, as well as his journal of his 2004 thru-hike.