Mother and Son, Taking a Walk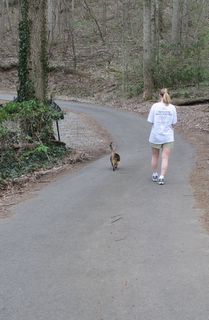 Whenever Hubster and I try to take a walk around the neighborhood, Beau the Cat insists on going with us. This makes for a tricky situation; big and strong and healthy as Beau is, he can't handle the
very
hilly 3-mile walk we take. I end up having to carry him. All eighteen pounds of him.
So we have to sneak out of the house when he isn't looking. Last night, we had to head back to the house for a few minutes before sneaking out the back door. I felt terribly guilty about leaving him behind, poor thing. But we had a good walk!
I am
so ready
to get my flabby old cubicle-dwelling self back into shape!