The Countdown Has Begun
Johann Sebastian Bach's birthday is this month.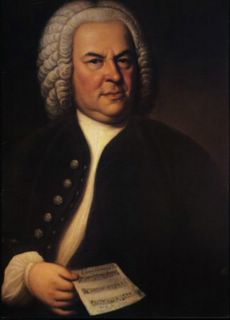 In honor of my beloved, bewigged, and bejowled one, I'm going to attempt to write at least one Bach-related post every day.
I've already posted one today. I'll make up for yesterday by posting another one now.
If you have interesting Bach trivia you'd like for me to include, just e-mail me at infpeace(at)gmail(dot)com. (
Also, I'm not the world's greatest expert on Bach, so if I get a fact wrong, please let me know.)
Yesterday's Bach post for today consists of a fact, and a joke.
Here's the FACT:
Johann Sebastian Bach was married twice (his first wife died) and fathered 20 children, ten of whom survived childhood. His most famous composer-children were Wilhelm Friedemann, Carl Philipp Emanuel, and Johann Christian.
Here's the JOKE:Q:
Why did Bach have so many children?
A:
Because his organ didn't have any
stops
!
Bonus fact:
In his day, Bach was more known and respected for his organ knowledge and virtuosity than for his ability to compose music.