Looks Like Our Old Flames Are At It Again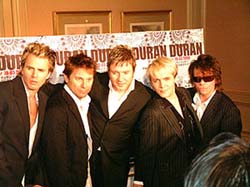 Duran Duran's new album, Astronaut, is due for release soon. It's been a while since I've purchased a non-classical CD. Guess it's about time I bought music that was written less than 200 years ago. Maybe I'll even like it.



Here's an article on the Fab Five, and here's a site where you can read/write reviews of the album.



Google pointed me to the official Duran Duran website.



My mom e-mailed to tell me they'll be performing on Good Morning America tomorrow morning. Wonder how many thirtysomething ex-teenybopper Duranies will be recording it ... ?



They look a bit older, but so do we. Weird to think that I'm more than twice as old now as I was when I was a "Duranie." Ack, I say! Again, I say ack!